Modular ZENVANZ cabinetry/component system for
DIY Camper Conversions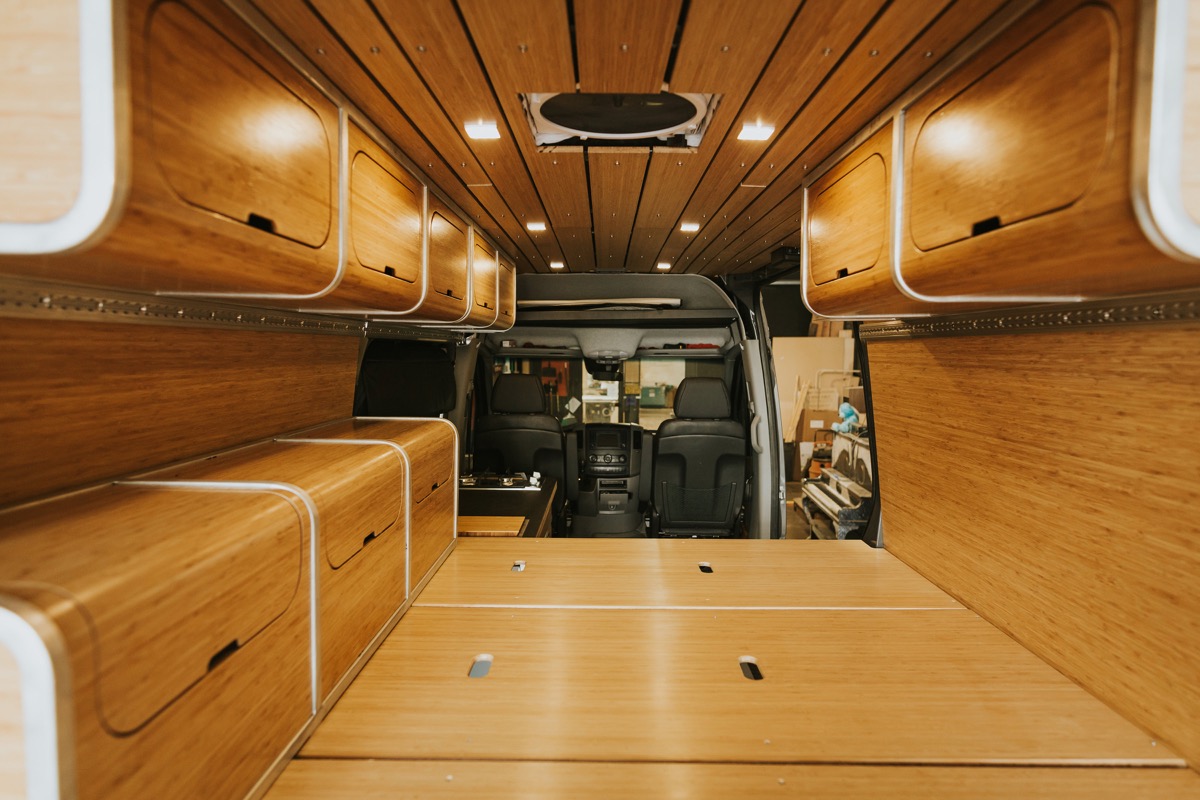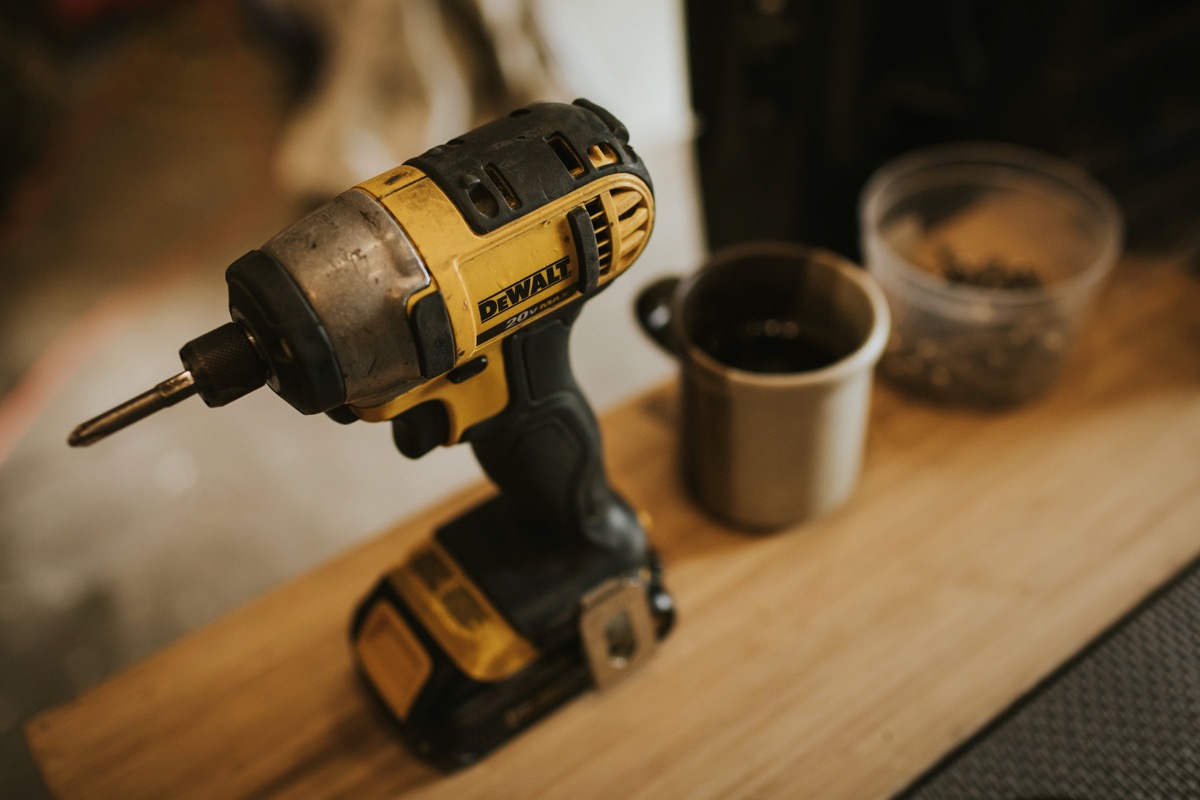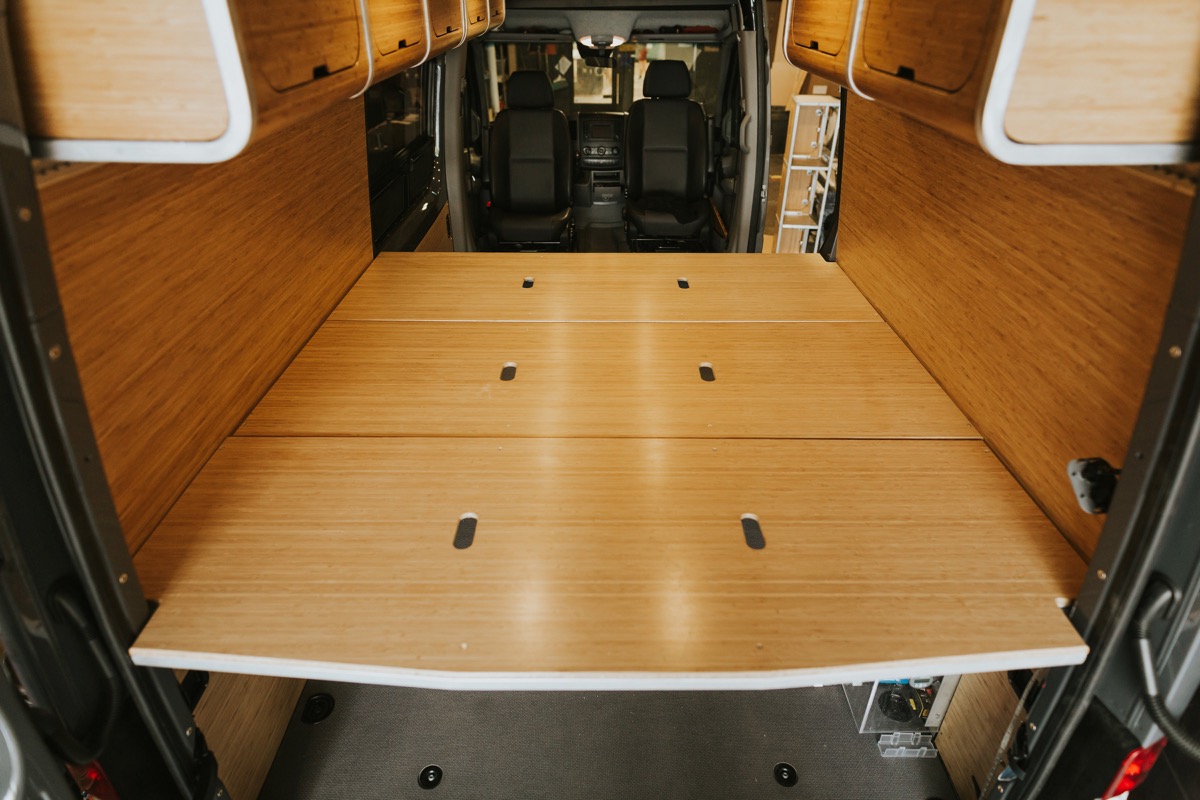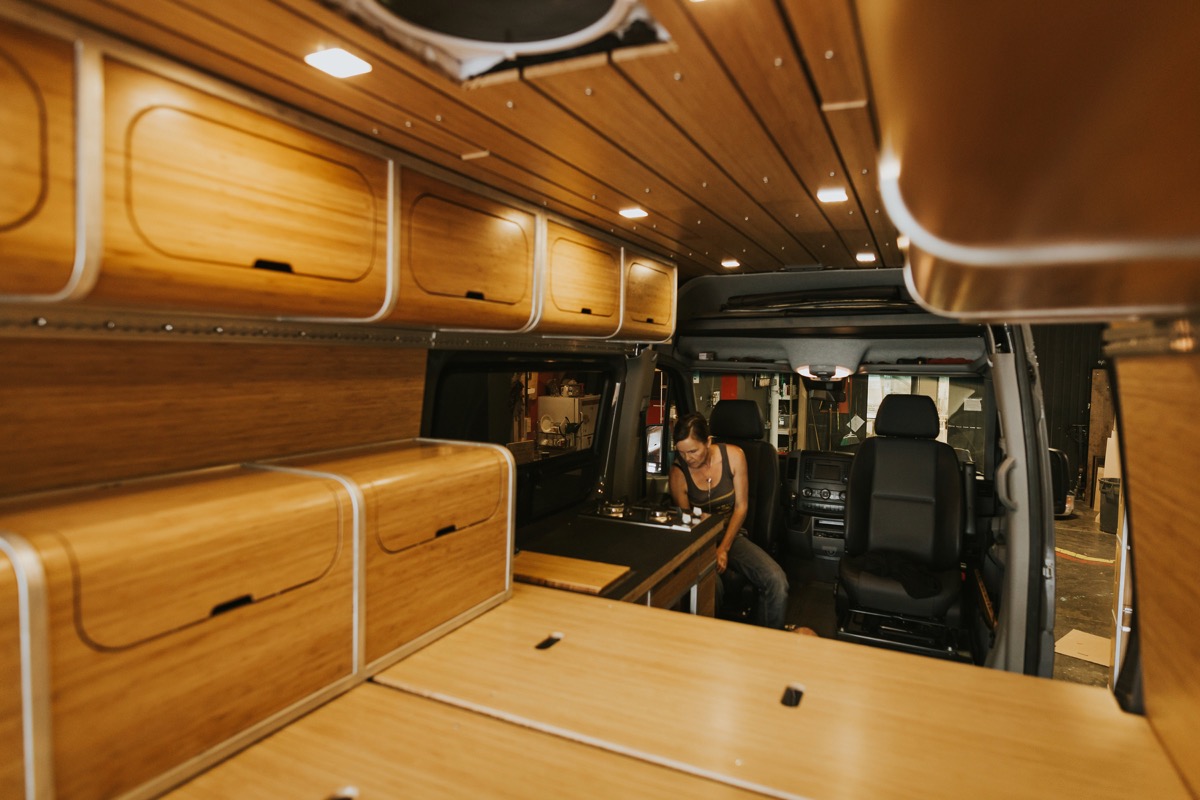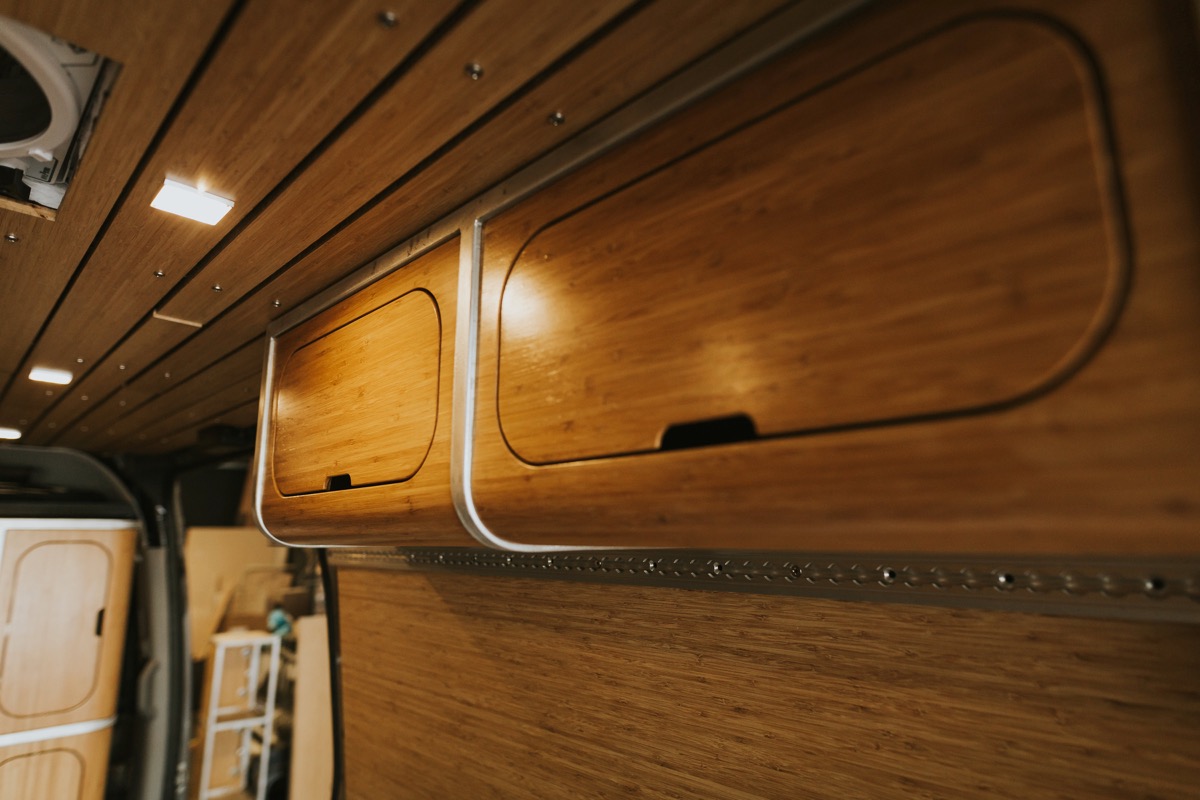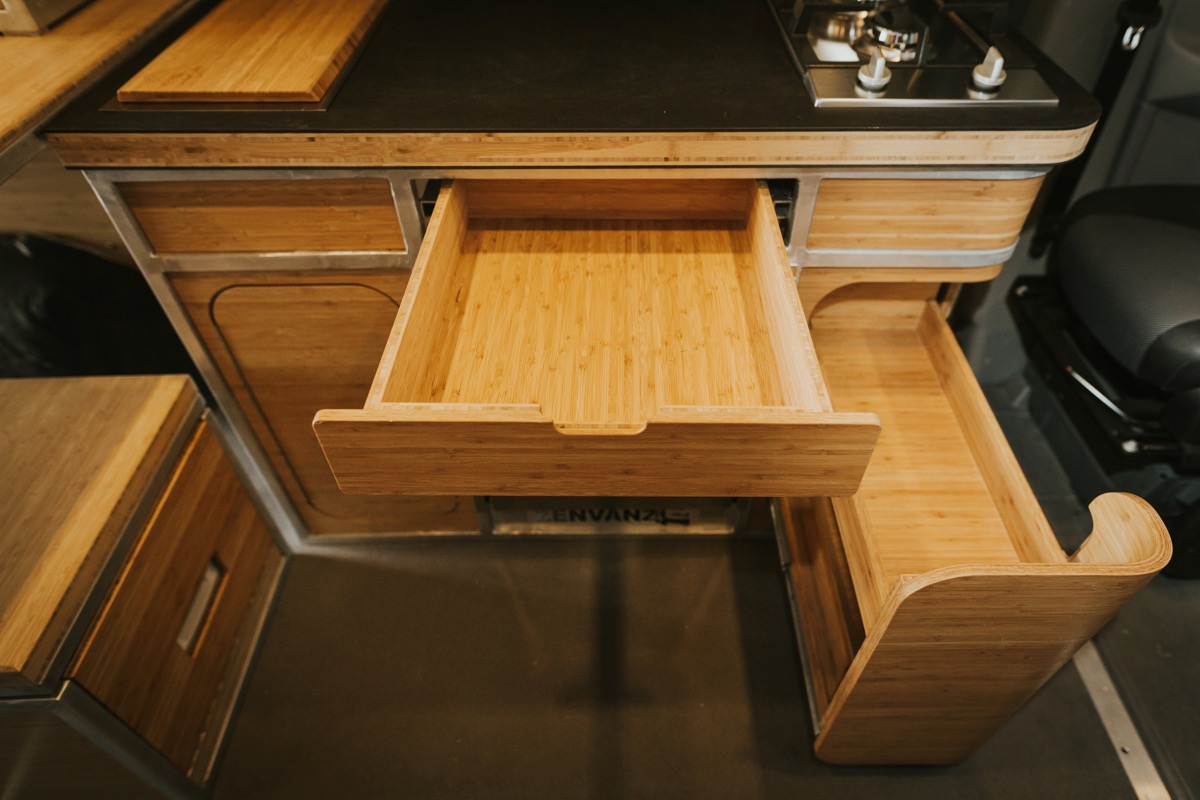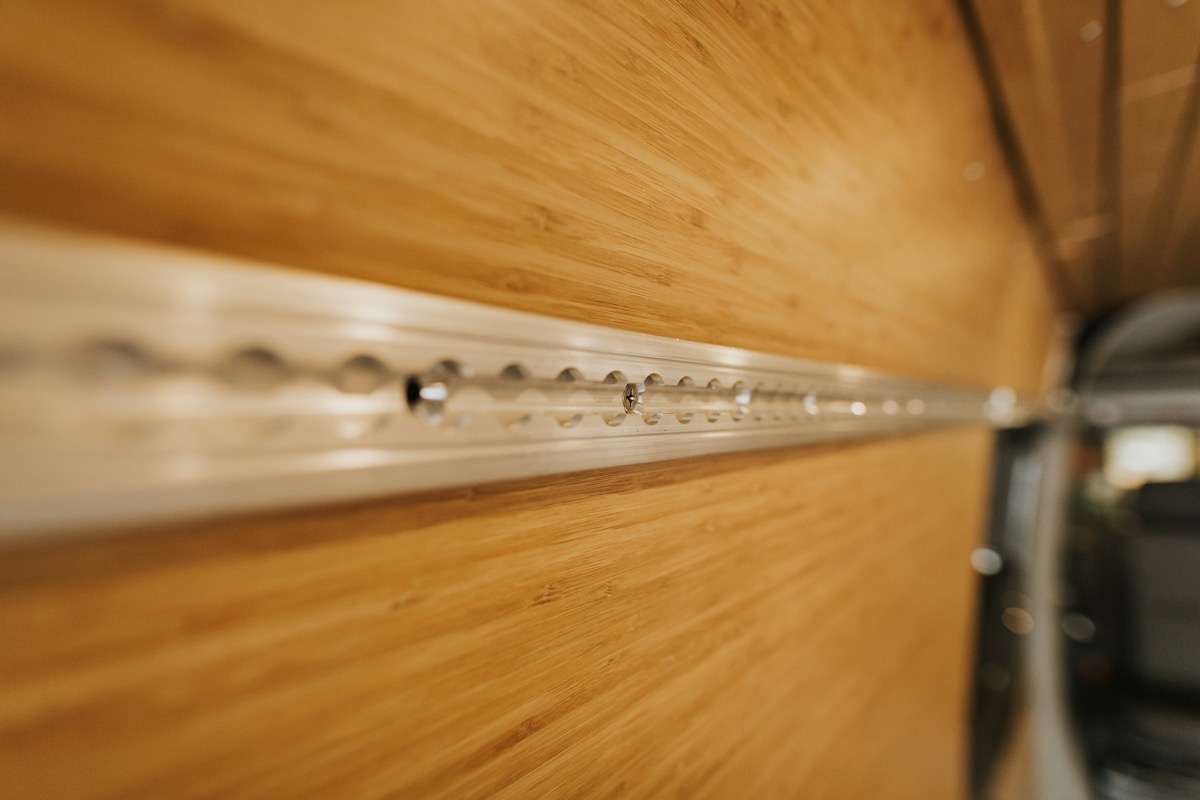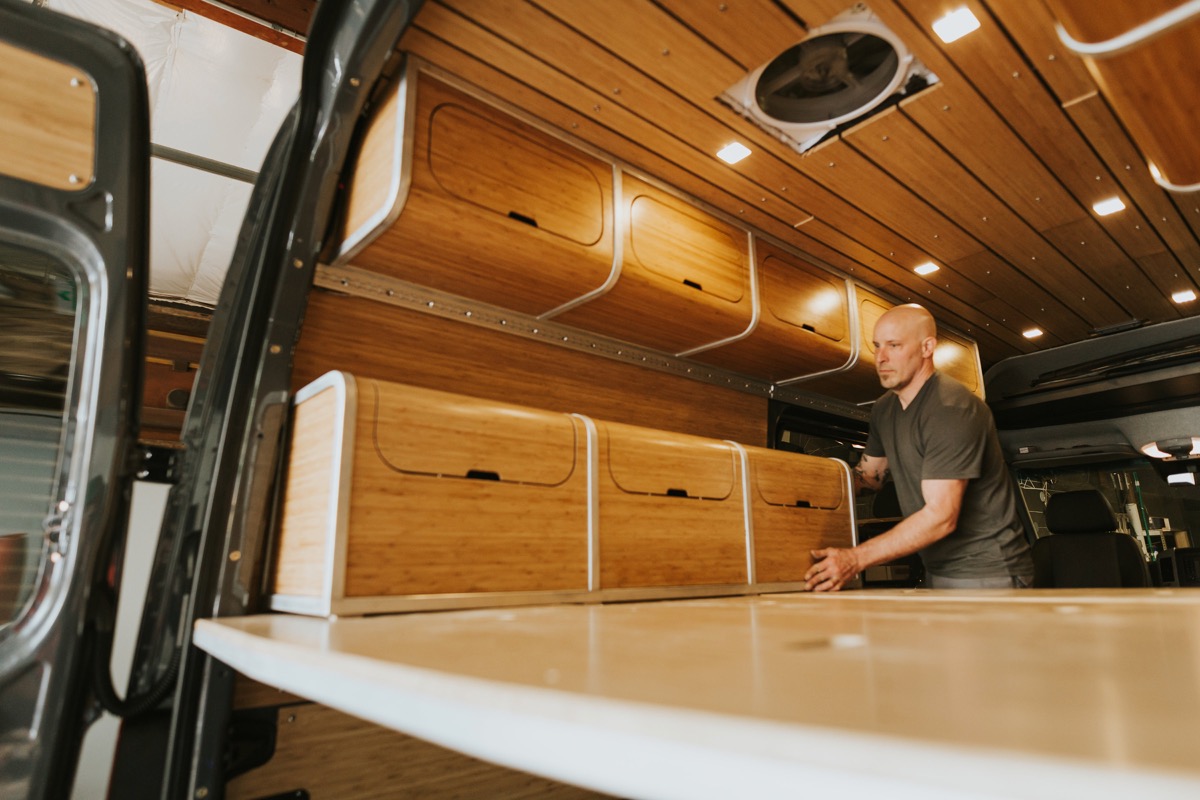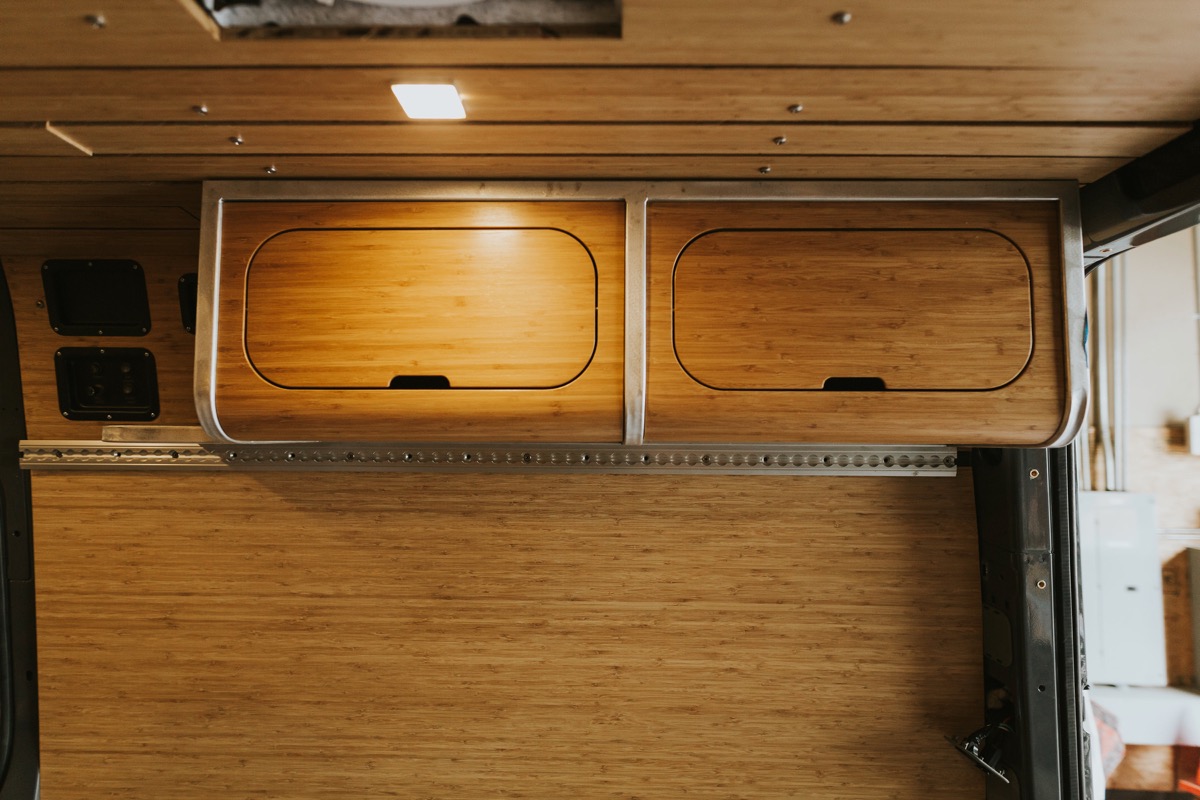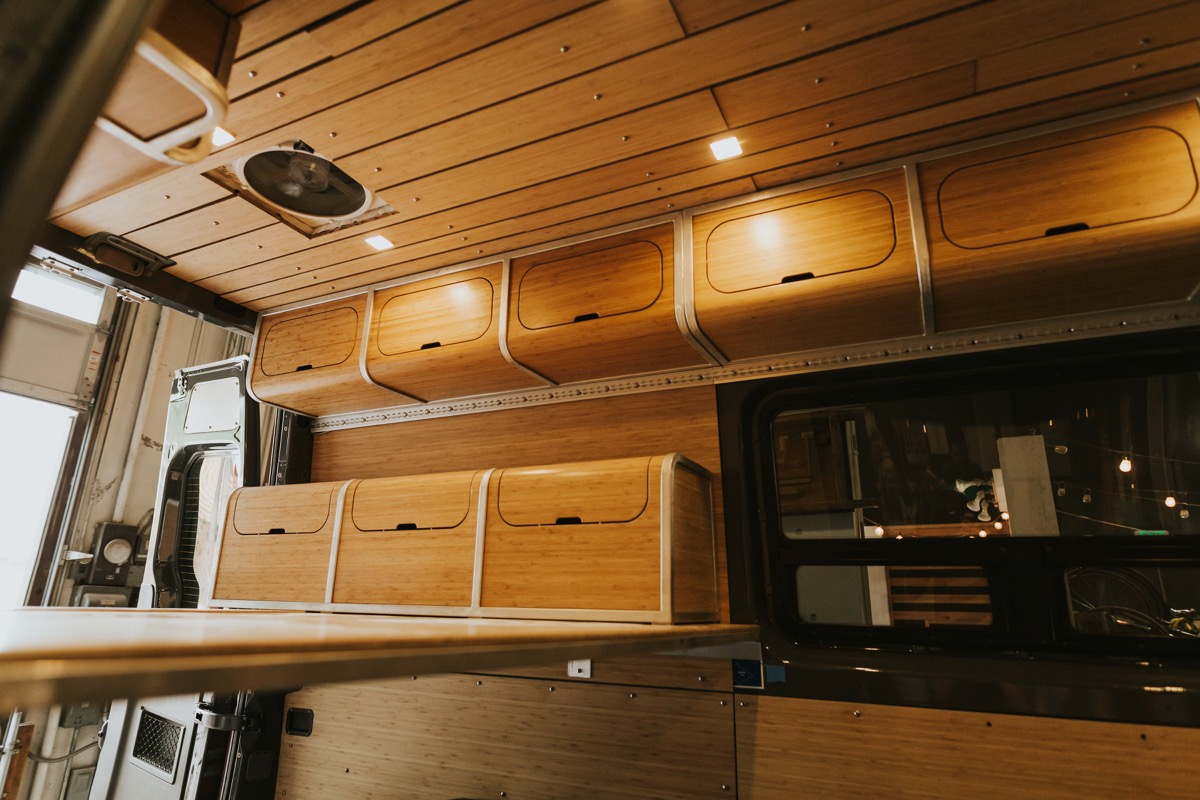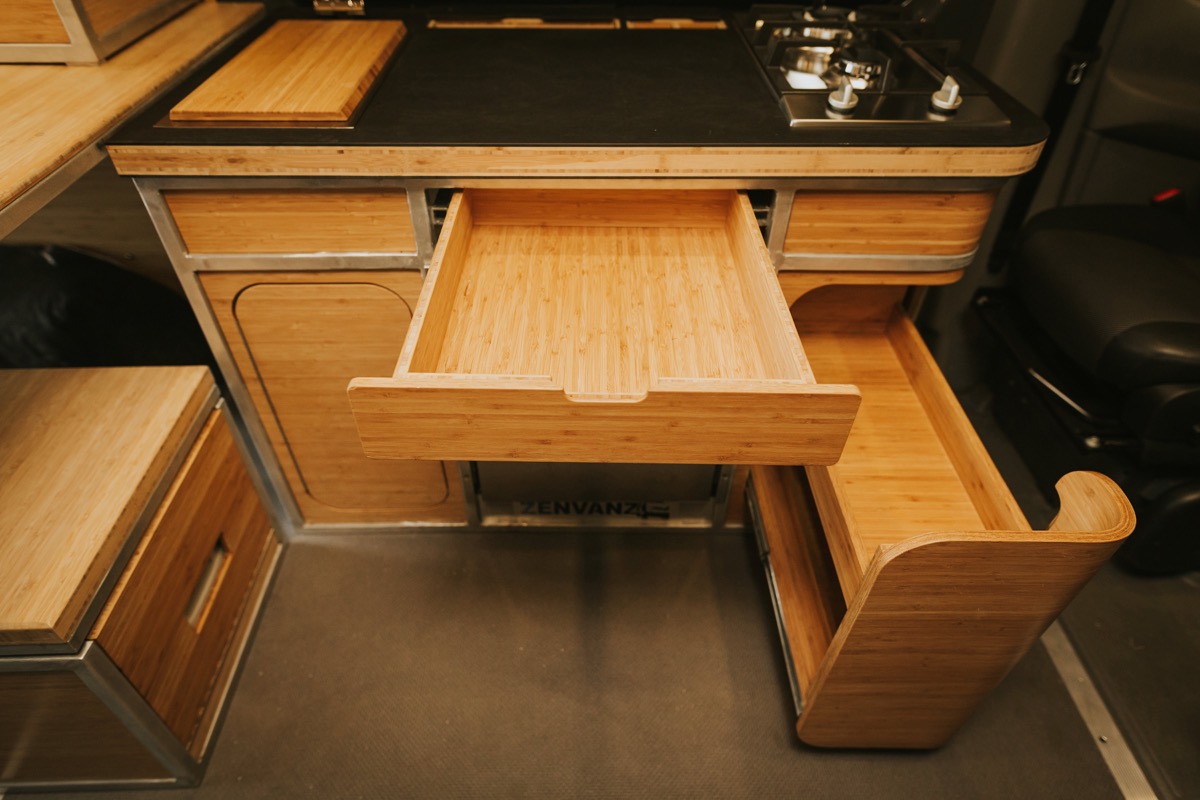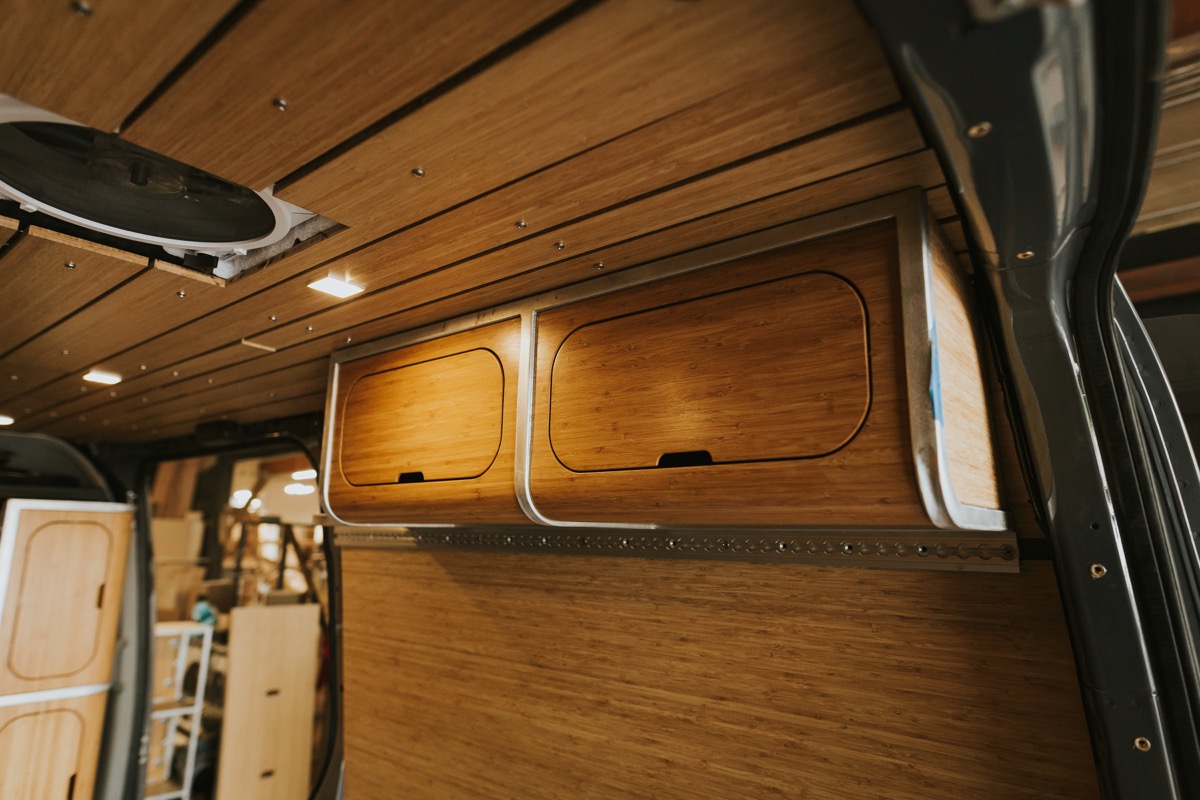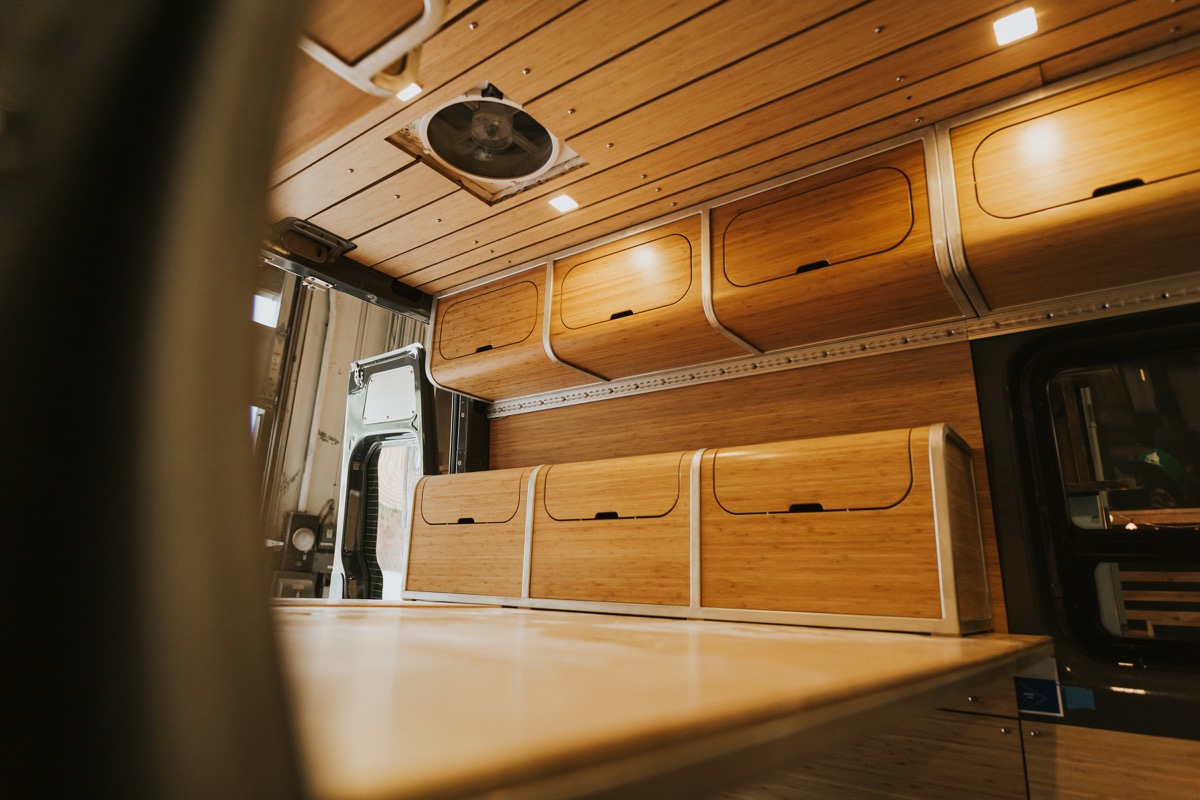 OVERVIEW
Our DIY Van Kits are constructed of a rugged yet beautiful aluminum exoskeleton and bent bamboo panels. These components are engineered to install easily into your van build using factory holes, and can be easily removed as needed to convert your van back into a daily driver or as needed for repairs/upgrades to whatever lies behind the walls.

Price: $18,000 for standard length vans
$22,000 for long wheel base vans
Install and custom cabinet components available if needed.
Email us for current timeline/production schedule or to discuss your goals.
HIGHLIGHTS
Our DIY VAN BUILD KIT turns the entire idea of a van build upside down.
You no longer have to have the entire build solved before getting underway (and not just because we tend to play the role of "coach" throughout the build).
In fact, most of our clients install the DIT kit first into an empty van, which means it can be used from day 1. After install, they simply remove a cabinet or wall panel as they have an evening or weekend free to work on a "behind-the-walls" project (or to hire someone to assist with the projects they are less comfortable with completing on their own).

Have the rugged/elegant finish of a ZENVANZ interior, but save money on sweat equity or by adding systems slowly as time/money allows.

The perfect beginning to either a DIY van build or simply acting as your own General Contractor, doing the projects you are comfortable with and finding local subcontractors to handle those projects you find too intimidating (electrical/plumbing, etc)

Modular ZENVANZ cabinetry/component system for those seeking a high end finish to their DIY Camper Conversion.

Engineered for easy removal as needed to return your van to a daily driver or for easy upgrades and additions.

Rugged aluminum exoskeleton.

Bent solid bamboo panels.

Streamlined curves.

Uses only factory holes, no need to turn your Sprinter walls into swiss cheese.

High end stainless steel hardware.

Beautiful, rugged and functional storage.
WARRANTY
● ZENVANZ WARRANTY: 1 year warranty against manufacturing defect.
Standard ZENVANZ Modular Cabinet Kit Components Included:
KITCHEN/GALLEY
Easily removable interior kitchen/galley.

Solid bamboo cabinetry.

Bamboo/Paperstone countertop.

Cutlery/silverware drawer with soft close hardware.

Options to Upgrade: Under counter waterproof/multicolor LED lighting, Fridge/Freezer, 2 burner propane cooktop, sink/faucet, mounted tabletop.
BEDSIDE CABINETS:
3 bedside storage cabinets.

Great for blankets/linens/towels, bulky winter clothing, gear.

User friendly stay open hinges.

Option to Upgrade: Inside cabinet LED lighting.
UPPER CABINETS:
5 Driver side and 2 Passenger side upper storage cabinets.

Large storage cavities.

Great for kitchen use , toiletries, clothing, books.

User friendly stay open hinges.

Option to Upgrade: Inside cabinet LED lighting.

3 PANEL BED SYSTEM:
Easily removable and stackable 3 panel bed system.

Options to Upgrade: 7" Extreme Comfort mattress, Oversized storage space under bed that is perfect for black out window shades, yoga mats and other larger, more difficult to store items.
FOLD OUT GEAR DRYING RACK:
Engineered to attach to upper door panel of passenger sliding door.

5 fold out bamboo hooks that allow gear to drip/dry over slider door step.

Folds flat when not in use to allow slider door to function as normal.

Video on Instagram coming soon
Other Options Available but not included in the kit:
BAMBOO CEILING PANELS, DOOR AND WALL PANELS
Sealed bamboo panels for all door and wall panel locations.

1/2" bamboo ceiling slats.
CUSTOM CABINETRY OR COMPONENTS IN THE ZENVANZ STYLE
We work with our clients to design/fabricate custom components and/or layout changes needed complete their perfect DIY build.


CONTACT US to reserve a kit or to check availability of individual components.