The following are a few examples of components we use in our full/custom builds and also recommend to most clients looking for a DIY build.
This list (like all of our builds) represents countless hours of research, years of first-hand testing.
If we wouldn't put it our van, we wouldn't suggest you putting it in yours.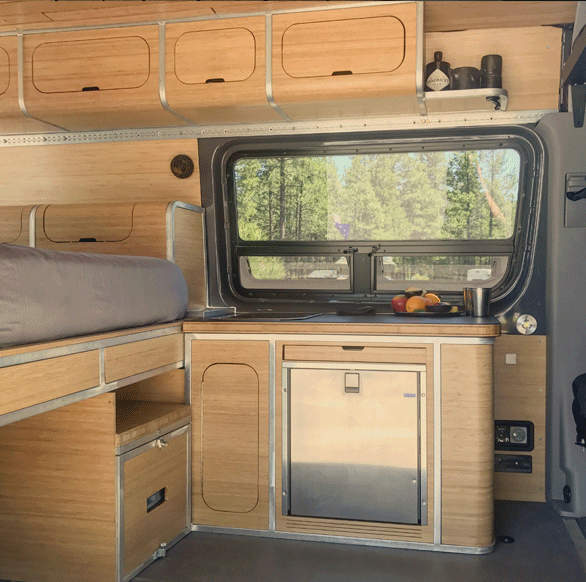 Removable 3 panel bed system. The only bed on the market we have seen with a passthrough so you can open the back doors from the inside while laying in bed. Its the simple details that make all the difference.
Victron LiFePo4 Batteries
ZENVANZ are equipped with only the industry leading LiFePo4 batteries. Do some research and you will see the benefits are immense: Longer lifespan/warranty, Less maintenance, They don't require regular full charges, Don't not need equalization, More usable capacity, High output, Faster charging, More efficient, Smaller size, Less weight, Temperature resistant, No offgassing, No voltage sag, etc...the list goes on and on.
We honestly don't understand why some installers still cut corners and install AGM batteries in their vehicles.
We know the kitchen is the heart of any home and that shouldn't change just because you're on the road. Ramen and rehydrated food is for backpacking. Instead we're talking fruit smoothies in the morning and gourmet sunset dinners prepared on the indoor SMEV2 Burner Propane Cook top or the outdoor grill. Stainless Steel appliances and plenty of functional counter and cabinet space for kitchen tools, exotic spices and pantry items.
Ice in your sunset cocktails! The ISOTHERM Drawer Refrigerator/Freezer is a 2.3 cubic foot, space-saving, front-opened marine refrigerator drawer with brushed stainless steel door. Isotherm has a reputation for performance, innovative design and high quality materials, and also uses a minimum of battery power and offers the lowest possible noise level. The Drawer 65 features an internal freezer drawer, a caddy that holds three wine bottles and internal blue LED lights. The dependable Danfoss/SeCOP compressor with low power consumption and quiet performance, is backed by a 5-year limited warranty and all other parts are backed by a 2 year warranty.
Being Warm makes Van Adventure so much more fun! The Espar D2 Airtronic system keeps your van warm and comfortable in the most severe winter conditions. With an integrated fan, a wall mounted thermostat and a very intelligent electronic control unit, the D2 circulates warm air throughout the vehicle for maximum comfort. The system runs quicker/quieter than others creating a better environment for restful sleep, and consumes less than one gallon of fuel every 20 hours.
Also included are the High Altitude Compensator Kit allowing you to camp in high elevation with no disruption in your cabin heat and the Silencer Muffler immensely decreasing exterior noise, perfect for the stealth camper.
The MAXXFAN® Deluxe is the only complete ventilation system that incorporates a vent, fan and rain shield in a single all in one unit. With a powerful 10 speed intake and exhaust fan, it provides over 900 CFM to keep you cool and comfortable by bringing in fresh air and removing hot air and odors. Other benefits include an interior insect screen, twin lifting arms meaning no lid fluttering in high winds or when driving, Flush mounted, Closes securely for a low profile appearance, Controllable fan speed, Built-In Rain Cover to protect your interior, and Manual or electric operation.
The Thinsulate 3M insulation is warm yet lightweight, powerful yet thin, helps trap and hold heat while allowing moisture to escape. Our Vanz have the thickest version engineered for vehicles which means low weight, no loose fibers, non-flammable, does not absorb moisture, and no off-gassing. The Thinsulate thermal insulation, along with our insulated window shades, Espar D2 air heater and Maxxair Fan are the key elements that make our vanlife perfectly comfortable.
Even when off-the-grid, You're never without a toilet. The Thetford Porta Potti is sanitary, odorless and leakproof. It has a modern appearance, clean seat and cover design. Easy to use and Easy to carry with its ergonomic carrying handle. And best thing of all, the compact size is hidden beautifully and mindfully in its custom bamboo cabinet that slides out when needed but otherwise remains stashed away in its secret location.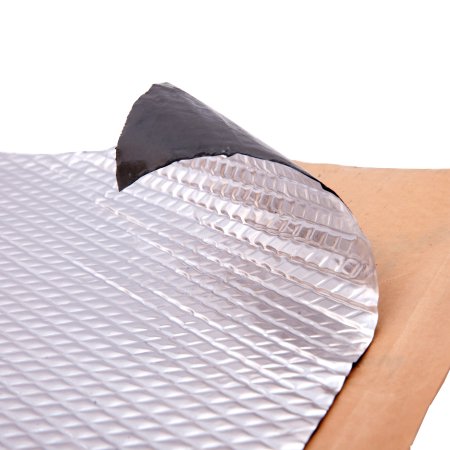 Keep exterior sounds out and interior sounds in. Noico Sound Deadener absorbs the vibrations and noises that travel through it, providing a dramatic reduction in sound and effective in eliminating rattles, vibrations, road noise. Noico also has insulation properties acting as an insulator to maximize cooling and heating systems. Lighter and thinner yet more effective than other deadeners on the market.
Heavy duty, steel swivel adapters allows front driver and passenger seat to swivel to face the cabin. Swivels rotate on super strong nylon rollers that give the swivel smooth operation and have an exclusive offset center pivot point that allows the swivel to turn without opening the door. Seats lock securely in the forward facing position. The heaviest, most solid, most tested and approved Swivel we could find.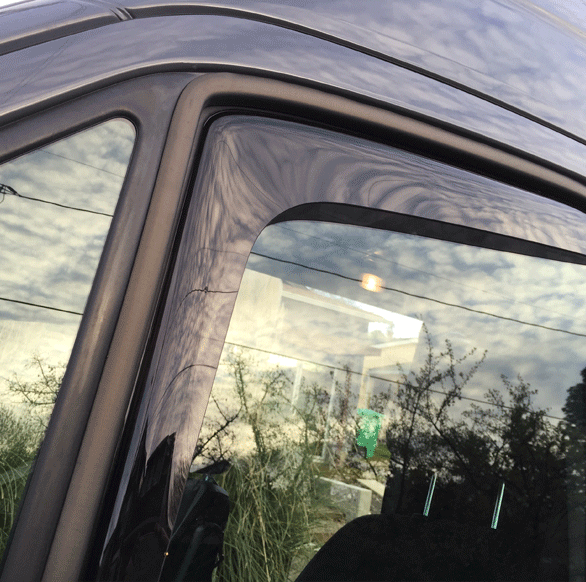 WeatherTech Side Window Deflectors offer fresh air enjoyment, keep side windows (and interiors) dry in the rain and reduce wind noise. Sleek, aerodynamic, and low profile. Lightly tinted but optically transparent and are precision-machined to perfectly fit the window channel. Crafted from the finest 3mm acrylic material available. The only deflectors in the world made with a U.S. Department of Transportation approved glazing material.
Our insulated BlackOut Window shades offer a Sleek Black Outer layer and are Insulated with NASA Double Reflective material for optimal thermal performance. Easy Magnetic Application, fits snug so no light or heat can escape. Great for Stealth camping as well as camping in extreme weather. Unaffected by moisture and humidity. Foldable for flat storage.
Beautiful and functional Bamboo Rack for hanging gear. Perfect for drying out snow covered jackets, pants, mittens and toques in the Winter and ocean soaked bikinis, boardshorts, and towels in the Summer. Folds flat and sleek when not in use.
Details matter. Power when you need it, stylishly hidden away when you don't. The Adorne PopOut Outlet features a Square shape with three plugs for added power. Easily disappears into the wall with a simple push when not needed. Ingenious.
RB Components headliner shelf is made from durable powder coated aluminum with a textured black powder-coat finish. The perfect way to utilize the overhead space over the driver's cabin area for us gear hounds. Stash your bike helmets, snowboard boots, climbing shoes or any other gear you use on the regular but also want out of the way. Rear formed lip prevents anything on the shelf from sliding off during travel over the roughest roads.
The stock Mercedes tires have been upgraded to the BFGoodrich All Terrain KO2. These Tires take on the most rugged conditions with confidence, nimbly handling mud, snow, sand yet, they have excellent road manners. This is BFGoodrichs Toughest All-Terrain Tire Ever
Super Bright led interior light kit with remote and wifi controller. Color changing strip lights provide festive illumination for under-cabinet and under L Track lighting.
MiLight WiFi Smart Multi Zone Controller with Touch Remote allows various static and dynamic color modes. Can control up to four separate zones and everything is dimmable.
Everything ROAMBUILT creates is built to enable a life of adventure, exploration and discovery.
Quickly setting a new standard for strength and enduring performance in the overland accessories market, the ShadowRack is no different. This roof rack is engineered specifically to house the SureShade and it fits so seamlessly into the rack that once the shade is closed it becomes almost completely invisible.
A fully automated telescoping shade system that automatically extends or retracts canvas at the touch of a button. Designed for the rugged marine environment with durable stainless steel construction and Sunbrella fabric. SureShades have been installed/tested in literally thousands of boats worldwide. Telescoping framework technology allows shade to extend & retract with no support poles. And unlike other Van awnings on the market, its good up to hurricane force winds. It's there when you need it the most!
Over 300 Watts in our ZENVANZ light weight Off-Grid system with leading manufacturer warranty and performance standards.
CR Laurence Rear Door Windows have been added to our Vanz as well as Driver and Passenger Side All Glass Frameless Windows with Operable T Vents for fresh air. 28% Dark Gray Glass for privacy.